President Duterte Supports In-person Classes to Restore Normalcy and Mandates Wearing of Mask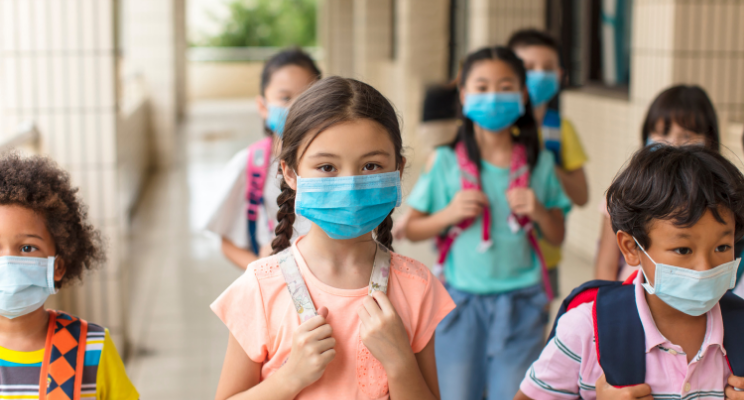 The following article was published in The Manila Times on April 17, 2022, where Catherine Valente reported that President Rodrigo Duterte said there is a need to resume face-to-face classes for both public and private schools as it is crucial in restoring normalcy to the country amid the Covid-19 pandemic.
According to the report, during a situation briefing in Baybay City, Leyte on Friday, April 15, Duterte expressed confidence in the Department of Education's (DepEd) readiness to supervise the resumption of in-person classes nationwide. Translated from the local dialect, he said: The problem with schools is the Secretary of Education's decision to resume in-person classes. It's but fair, we need to go back to normal.
He said the infection rate has decreased, but it does not mean that "I want you to stop wearing your masks." Duterte urged people to "continue to use your masks because this has given us protection." He added that if he "hadn't firmly imposed the usage of face masks, the infection rate would have been high."
Editor's Note: We commend President Duterte's support for in-person classes; what is absurd though, is the mask mandate. [See Is it time for the Philippines to lift its mask mandate?]
We don't know how his health advisers sell the idea that masks prevent the transmission of the virus 10x smaller than the holes of the masks? [See Study shows 90% of particles can pass through cloth masks making them useless for preventing COVID transmission; Danish mask study now published: Masks do not reduce SARS-CoV-2 infection] And even World Health Organization, in 2019, has documented that masks lack effectiveness in reducing transmission. [See Will the real WHO please stand up?].
He should also know covid-19 is not deadly as he believes; thus, there is no need for masking because it can lead to more fatality than contacting the virus [see Compulsory masking is an assault on humanity; School Closures and Masking Kids are Irrational, Unscientific, and Child abuse; Meta-study shows that masks are dangerous; German Neurologist: Oxygen deprivation due to face masks cause permanent neurological damage; Should children be wearing masks?] Masking, especially to children, causes not only peril to their health but also to their mental state and compromised intelligent quotients [read COVID-19 Pandemic Affected Children's IQ].
Evidently, President Duterte's naivety means that he did not hear that other countries have already scrapped covid restrictions, including mask mandates. Sweden and Florida are particular places that did not require masks and yet have not recorded a surge in infection [see Despite open schools, no masks, no social distancing, no children died of COVID-19 in Sweden; Why Sweden has not mandated the use of masks; Florida has Lowest COVID Cases in the US, Proving No-Lockdown, No-Mask, and No-Vaccine Passport Approach Works].
A piece of advice to President Duterte, check what drives the infection rate? Certainly, it's not the masks that lessen it or the vaccination; it's the testing [see How COVID Testing Strategy Will Extend Pandemic Scare]. Also, he has to call for an audit of the vaccination status of those hospitalized for covid and what causes the excess deaths [see Duque Dials Fear, Says Those Who Died from COVID are Unvaccinated; 2021 Excess Deaths in the Philippines Shows Pandemic, but it is Not COVID]. It is apparent that he was given diminutive truth about this purported pandemic; it is outward by the way he glorifies the effectiveness of face masks. Or is this just another ploy?
Read Original Article
Read Online
Click the button below if you wish to read the article on the website where it was originally published.
Read Offline
Click the button below if you wish to read the article offline.